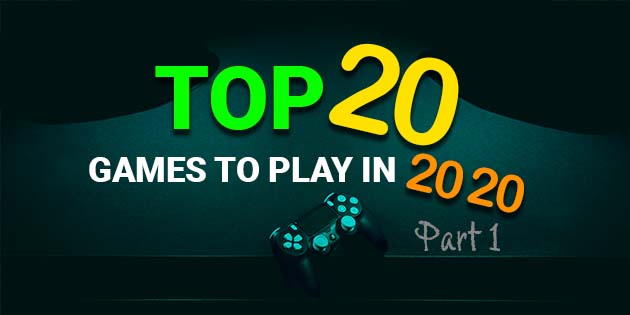 As we look back on 2019 it certainly had some great games but wasn't at all a year that will go down in history as groundbreaking in the video game industry as far as the titles we saw. They were a lot of fun but with the current consoles finishing their cycle and the new look Xbox and Play Station coming out later this year it's time to look ahead to a year that is already shaping up to be a massive one for highly anticipated major releases.
20. Dragon Ball Z - Kakarot - January 16 - (Xbox, PS4, PC)
I know some people are going to be excited for this, but my history with Dragon Ball games is that they mostly suck. I mean for a franchise that makes a hell of a lot of money out of it's fans it doesn't seem to mind putting out sub par quality products. . That is until Dragon Ball Fighter Z which was a real step up in quality for the franchise. Kakarot looks like it's going to incorporate even more RPG elements so this could be the Dragon Ball game we've always wanted.
19. Gods & Monsters – February 25 (PS4, Nintendo Switch, PC, XBOX, Stadia)
We saw bits of this title at E3 in 2019 and it kinda reminds me of "Zelda" with a fresh coat of paint and some pretty outstanding monsters. It's apparently developed by the team behind Assassins Creed: Odyssey which is one of the best games in the franchise so I have high hopes for this.
18. Half Life: Alyx – March (PC)
Ok so is this Half Life 3? Not really, the game is set between the events of Half Life 1 and 2 and is focused on Gordon Freeman's partner Alyx Vance. It will be good to see Valve back to telling this fantastic story but it's VR so the wider gaming audience may miss out on playing it unless you are upgrading your rig with all the latest VR tech.
17. Iron Man VR – Feb 28 (PS4)
Speaking of VR, who hasn't wanted to know what it feels like to be an Avenger like Iron Man. Sitting in your power suit with all those colourful lights around your heads up display as Jarvis or Friday talk in your ear about the bad guys you are about to fight and how your "suit integrity" or some such thing is at "critical conditions". The history of Superhero games is not awesome, but the Batman VR game was pretty fun so this should be pretty fun.
16. Minecraft Dungeons – TBA (Xbox, PS4, Nintendo Switch)
Grab a blender and put your "Diablo" disc in it with a dash of "Minecraft" turn it on and you'll get a horrible mess of plastic and probably a broken appliance. The game looks like it won't be though. A passion project from the Minecraft team that created the worlds most popular video game.
15. No More Heroes 3 – TBA – Nintendo Switch
Wonderful stylised designs make this a great "hack and slash" series in a very Manga inspired world.
14. Watch Dogs: Legion – March 3 (PS4, Xbox, Stadia, PC)
The most politically themed game in our list, the sequel to Watch Dogs will take place in a post-brexit London where Hackers known as DedSec fight the new authority.
13. Ghost of Tshushuma – TBA (PS4)
The last samurai on Tshumia Island in an open world fighting the Mongol invasion. You must master the way of the "Ghost" to free Japan and you'll have to do it without waypoints or objectives.. cause they didn't have them in ancient Japan.
12. Beyond Good and Evil 2 – TBA (Xbox, PS4, PC)
The prequel game is an action/adventure where you start at the bottom of the social system and work your way up visiting multiple planets and completing tasks. It will be MASSIVE!
11. Rainbow Six: Quarantine – TBA – (Xbox, PS4, PC)
Set in the future of the Rainbow Six universe you must find the alien parasites that are putting humanity in harms way. This is a 3 player co-op rather than the PVP style of the other popular E-Sports title.
The list continues in part 2