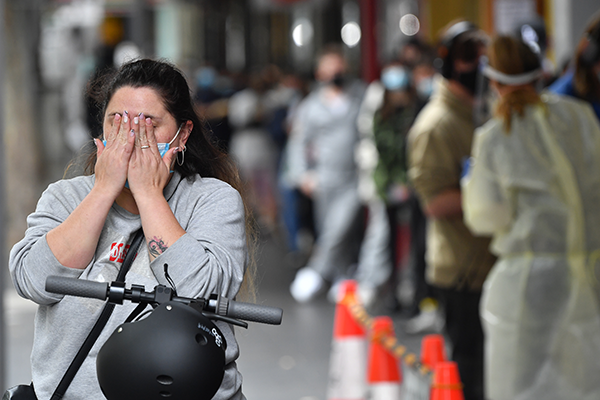 Multiple states and territories have brought back in some pandemic restrictions in a bid to suppress the spread of the infectious Omicron variant.
As case numbers continue to climb across the country, NSW has moved to suspend elective surgery, while singing and dancing in hospitality venues will be banned.
Major events in the state will be able to go ahead, but organisers will have their COVID-safe plans re-examined by health officials.
Meanwhile, Victoria has already reintroduced density limits in hospitality venues, and the Northern Territory has introduced a territory-wide lockout for the unvaccinated.
Queensland Premier Annastacia Palaszczuk said the state was considering suspending elective surgery as virus numbers rise, and urged people to work from home if possible.
She said the return to schools could also be postponed, with the peak of the Omicron wave expected to hit the state at the end of the month.
It comes as more than 78,000 cases of COVID-19 were reported across the country on Friday, yet another one-day national high for new infections.
Daily cases across the country have more than doubled in just the past week.
There were 38,625 new cases and 11 deaths in NSW, while there were 21,728 infections and six fatalities in Victoria.
Queensland had 10,953, while South Australia and Tasmania registered 3707 and 1489 cases respectively.
The ACT had 1246 cases, the first time the territory had daily case numbers above 1000, with the Northern Territory having 412.
Australian Medical Association president Dr Omar Khorshid said health systems across the country had been struggling with the explosion of cases.
"The reality is our hospitals are under extraordinary pressure, and those long-suffering staff who have had a very difficult couple of years ... they're facing huge demand at the front door of the ED," Dr Khorshid told the Ten Network.
"It's just not true to say our health system is so resilient it can cope with anything. There are limits, unfortunately."
The rise in cases has led to a boost in demand for rapid antigen tests, which has caused widespread shortages and reports of price gouging at some retailers.
Large queues have been seen at PCR testing clinics across the country following the rapid test shortage.
Labor health spokesman Mark Butler told ABC radio Australia was at risk from a lack of rapid tests.
"There is a very serious risk the Australian community is going to be dumped by this fourth wave because Scott Morrison failed to do the hard work," he said.
"The critical weapons in the fight against Omicron ... are to make sure we're getting boosters into people's arms and to ensure we have a comprehensive rapid testing regime and (the prime minister) failed at both of them."
Mr Morrison said 200 million rapid tests would be available in coming weeks but ruled out making them universally free. The government will instead provide 10 tests over a three-month period to more than six million concession cardholders.
Nearly three million people aged 16 and over have received their booster dose since the booster rollout began.
The time frame between doses was shortened earlier this week from five to four months between the second and third dose.
That will shorten again to three months by the end of January.
© AAP 2022
Photo: People queue at a walk-in COVID-19 testing site in Melbourne. (AAP Image/Joel Carrett)